首页
» » 索甲仁波切双修大揭密
BRIEFING DOCUMENT ON SOGYAL RINPOCHE 5th symphony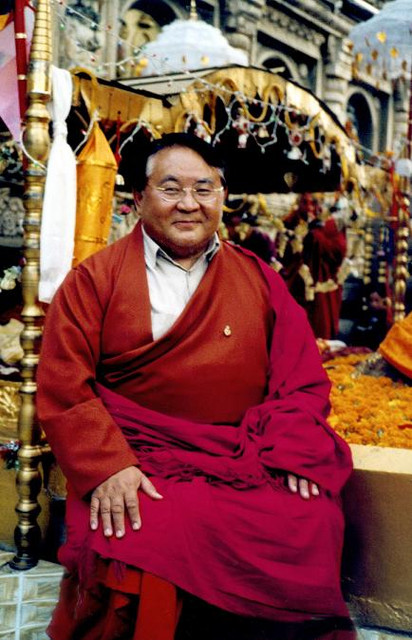 BRIEFING DOCUMENT ON SOGYAL RINPOCHE 5th symphony
(part.2)



BEST-SELLING BUDDHIST AUTHOR ACCUSED OF SEXUAL ABUSE>
By Don Lattin
San Francisco Free Press November 10, 1994
$10 million civil suit filed in Santa Cruz by a woman who says Sogyal Rinpoche, author of the Tibetan Book of Living and Dying, "coerced" her into an intimate relationship.
With the blessings of the Dalai Lama, a group of American Buddhist women have launched a campaign to expose the alleged sexual misconduct of a prominent Tibetan lama and best-selling author.
Sogyal Rinpoche, author of the Tibetan Book of Living and Dying, is accused of "physical, mental and sexual abuse" in a $10 million civil suit filed last week in Santa Cruz County Superior Court.
According to the lawsuit, an anonymous woman identified only as "Janice Doe" came to Rinpoche for spiritual guidance last year at a retreat sponsored by the Rigpa Fellowship meditation center in Santa Cruz, but was "coerced into an intimate relationship" with the Tibetan guru.
"Sogyal claimed (she) would be strengthened and healed by having sex with him and that to be hit by a lama was a blessing," the lawsuit states.
The suit — which accuses Rinpoche of fraud, assault and battery, infliction of emotional distress and breach of fiduciary duty — also charges that the Tibetan lama has "seduced many other female students for his own sexual gratification."
Sandra Pawula, spokeswoman for the Rigpa Fellowship of Santa Cruz, one of many meditation centers in the United States, Europe and Australia, declined to comment about the allegations, but said that Rinpoche is not married and does not claim to be a celibate monk. Rinpoche, who lives abroad, could not be reached for comment. The lawsuit follows a letter-writing campaign to the Dalai Lama by American women concerned about alleged sexual exploitation by Rinpoche…
"What some of these students have experienced is terrible and most unfortunate," said Tenzin Geyche Tethong, the Dharamsala-based secretary to the Dalai Lama.
Jack Kornfield, founder of Spirit Rock Meditation Center in Marin County, was among a group of two dozen Western teachers who discussed the sexual misconduct of Buddhist teachers with the Dalai Lama last year in India.
According to Kornfield, the Tibetan Buddhist leader told the Americans to "always let people know when things are wrong. Put it in the newspapers if you must do so."
Another woman allegedly abused by Rinpoche, Victoria Barlow of New York City, said she is "disgusted by the way the Tibetans have manipulated the reverence Westerners have for the Buddhist path."
Barlow, 40, said she first met Rinpoche in the mid-1970s, when she was 21, and that she was sexually exploited by him during meditation retreats in New York and Berkeley.
"I went to an apartment to see a highly esteemed lama and discuss religion," she said in an interview with the Free Press. "He opened the door without a shirt on and with a beer in his hand."
Once they were on the sofa, Barlow said, the Tibetan "lunged at me with sloppy kisses and groping. I thought I should take it as the deepest compliment that he was interested and basically surrender to him," she said.
Sources say the Tibetan Buddhists were trying to handle this issue within their community but decided, especially after the Dalai Lama made the comment about going to the press, to go public now.





SEXUAL HEALING
by Mary Finnigan
From the London paper, The Guardian, 10/01/95
The Tibetan lama Sogyal Rimpoche is being sued for $10 million in the United States by a woman who alleges sexual harassment, coercion and abuse. Sogyal (Rimpoche is
an honorary title meaning Precious Jewel) has been teaching Buddhist meditation for more than 20 years, with a world-wide following and meditation centres known as The Rigpa Fellowship in London, France, Ireland, America and Australia. He is the author of a best-seller, The Tibetan Book of Living and Dying, and appeared in Bertolucci's film Little Buddha. The Rigpa Fellowship in London has issued a letter informing its members that a suit has been brought against Sogyal Rimpoche. Although he is not a monk, and has not taken vows of celibacy, he is accused of using his position to obtain sexual favours. Allegations like these threaten to blow a hole in the aura of asceticism and austerity surrounding Buddhism in the West.
In the late 1960s, western hippies seeking spiritual enlightenment were drawn to the Tibetans' exuberant, colourful style. Tibet was seen as a Buddhist Shangri-La — a far cry from the reality of a country under repressive Chinese occupation. In the seventies, rumours started to circulate about other globe-trotting Buddhist gurus, who were said to be seducing their students and behaving more like spiritual barons than spiritual mentors, exercising droit du seigneur among their followers….
Although not all Tibetan teachers are monks – many have renounced their vows and some are from non-celibate traditions – if a sexual relationship arises, the imbalance of power in the teacher-pupil relationship can lay the student open to abuse. Many Buddhists see this as a contravention of the moral code which frowns on all actions that cause harm. At a conference of western Buddhist teachers in India last year, the Dalai Lama urged delegates not to be afraid of criticising corrupt gurus. "If you cannot find any other way of dealing with the problem," he said, "tell the newspapers."
Last year, an American woman and former pupil of Sogyal decided to bring a civil case anonymously, and were allowed by the court in Santa Cruz, California, to use the pseudonym Janice Doe. She says in her suit that she approached Sogyal at a time of a time of confusion, shortly after her father's death. According to the suit, Sogyal told her that "through devotion and his spiritual instruction, she could purify her family's karma". The woman alleges he seduced her the next day, claiming that she would be "strengthened and healed by having sex with him".
However unconvincing such an argument may sound, the Zen priest Yvonne Rand, who is counselling Janice Doe, points out that the relationship between guru and disciple is one of power and submission. People who seek guidance from a spiritual master want to believe what he or she tells them.
"Many women who seek out spiritual teachers come from dysfunctional families. They may have experienced physical and/or sexual abuse, had no father or bad father relationships, and so is looking for a good father. This creates blind spots in their perception of a teacher."
Rand is emphatic that such high risk relationships rarely benefit both parties. This opinion is shared by other women who have had sexual liaisons with their gurus. "I was touched by his need for me," says one, who had a long relationship with a lama, "but it was difficult and strange, in no way a normal relationship. It fuelled my fantasies about having special qualities, but he debunked them. I felt empowered by him but though he treated me with respect, I was always aware he had other lovers."
Another woman speaks of the confusion that arose from being first a humble devotee, then an exalted sexual partner, then back in the ranks again. "I felt used," she says "He put his needs above mine."
More recently, a young English woman attended a residential retreat. She thought she had been singled out for special attention only to discover that she was being invited to join a harem. "At first I was flattered, and very open and trusting. He encouraged me to fall in love with him – but I realised that he was toying with me. I noticed several other young, pretty women going in and out of his apartment, when I confronted him with this; he dropped me for the rest of the time I was there."
Did she learn anything from her intimacy with the guru? "He gave me good advice, but I am left with a hangover of pain and confusion. I also have doubts about Buddhism. If anything, I have learnt to be more cautious."
Rand and the British Buddhist teacher Ngakpa Chogyam Rimpoche share the view that the majority of westerners sign up too quickly with their gurus and find themselves in a much more intense relationship than they had bargained for. This is especially true of Tibetan Tantric Buddhism which, at an advanced level, incorporates sexual union into spiritual practice.
Rand believes that westerners often fail to make the distinction between a teacher who helps along the way and a guru who is an enlightened being. "Some Tibetan lamas do not see themselves as accountable in the western sense of the word," says Ngakpa Chogyam. "They get blown off-centre by too much adulation."
This potential for adulation makes it vital that teachers accept responsibility for the well being of their students. Responsibility must include, if not celibacy, then extreme care with sex. According to psychologist Deborah Clarke, everyone who enters into a spiritual or therapeutic relationship is vulnerable to exploitation.
"I'd be furious if a guru made a pass at me," she says. "They should all know by now that people with that sort of power have a moral and ethical duty not to abuse it.
Below is the personal testimony of one of Sogyal's close personal assistants who ran one of Riga's European centres for several years, before leaving after becoming increasingly disenchanted by Sogyal's actions.
In the mid 80's, during my seven years with Rigpa and 4 years as founding director of a national Rigpa branch, I had slowly discovered that Sogyal Rinpoche had sex with very many disciples. Even though I was very close to SR, it took me some time to notice the obvious. Even though I am a professional counsellor, it took me quite some time to notice it at all, and then it took me even more time to take action. First, at the same time I was shocked and kind of amused, I had mixed feelings about it, because in the beginning I saw that some women tried to get him. First I thought, they are mature woman, they know what they are doing, and I simply am too inexperienced in the exotic ways of Tibetan Lamas to be able to judge. It was much later that I heard stories and saw things which were not based on consent, and saw that he was cheating all the time on the women. Also I noticed that he had sex with young students who just had come to Rigpa retreats for the first time.
There was the harem, and the women seemed to be able and ok with their role in the game. At least I wanted to believe this, still trying to see SR as a holy man. On the other hand, I always found obstacles to consider SR as my guru. I considered myself at that time more like a Buddhist manager and some kind of assistant to SR, rather than as a disciple of his. I could see Dilgo Khyentse or the Dalai Lama as true masters, but SR appeared to me to be just a teacher who teaches Buddhism, or more likely a salesman who sells Buddhism. When I was in charge of my national Rigpa branch, I always exaggerated his qualities in the flyers I produced. I said to SR: either you are true and good and people will find out themselves, or if not they will also find out. So don't tell them what they should think or how good they should think about you. True quality will speak for itself. With me, he accepted such words, but I heard my successors had to write up his qualities.
I confronted Sogyal first jokingly, then half-heartedly, with my concerns about his behaviour, and I said to him that as a therapist I knew about the transference phenomenon: students see the teacher as kind of a father figure, so sex with the student is psychologically seen as incest. Also, that in the West, the relationship between teacher and student, or priest and the parishioner, must be kept pure, and does not allow for intimate relationships involving sex in any way. He was not amused, and tried to avoid the subject, but he first tried to justify his sexual behaviour spiritually.
First he said that because he is one of the incarnations of Padmasambhava, and that Padmasambhava had many "spiritual consorts", he would be somehow entitled to do so. Then he played the cultural card: in Tibetan culture women are seen as Dakinis, and they would happily serve the Lamas for enhancing their spiritual power and so on. I am ashamed, but first I wanted to believe all this. I was brought up in a prudish, bourgeois Catholic environment. I was used to playing roughshod with the truth, and to idealize and respect people of position even more than supposedly "holy" men. My spiritual and emotional hunger made be blind to my own values and my professional standards – at least where the standards of the Lama were concerned, however, fortunately not in my own work.
For some years I was blinded by my position of power. I felt that I was establishing a very well-run organisation together with other dear friends which was benefiting many people. I was happy. I was in a very special position. I honestly tried to use my position to the best of my ability. I felt I was chosen, and because of karmic connections with Sogyal, I was finally realising my full potential.
The bitter irony is that because other students saw me as a rather independent, seemingly critical, and reasonable person and because of my professional status as a psychotherapist, some people viewed me as endorsing Sogyal. In fact they envied my special access to SR. I could no longer ignore what was happening. On one occasion Sogyal wanted me to lie on the phone to a woman, who wanted to contact him after having had sex with him but had found that he was in bed with another woman. I refused to be a party to his affairs. He became very angry and yelled at me, but I was not impressed. Basically, he always treated me very well. He seemingly respected me, but now I think he was clever enough not to treat me badly like some of the other students so I would remain loyal. He gave me the feeling that he appreciated my views at least as long I helped him to please the audience and the students. But he never was open to criticism concerning his personal behaviour. Also, he never answered any of my personal spiritual questions. I got more and more the impression that he simply could not answer them. Also, when I attended sessions where he should answer questions from his students, he often gave very stupid answers, and showed that he had not much understanding of what people were really asking. Sometimes he ridiculed people to cover this up.
One of the worst things I experienced was at a winter retreat in Germany. A long term student of his was in emotional distress and asked in obvious pain, vulnerability and confusion for his help, and he forced her to speak louder and then to come forward to the stage where he put her down completely. In my view, he was totally afraid of her, and could not deal with the situation at all. But instead of putting her into safe hands, he tried to save himself by putting her down and ridiculing her, and then played the strong teacher who can deal with everything. That same night, we had to rush her to the emergency ward of the nearest psychiatric hospital with a nervous breakdown and a psychotic seizure.
As a therapist and as a student, I was horrified by his behaviour and his complete lack of compassion and skill. Before I left Rigpa, an American woman told me confidentially and in great distress that she had just lost her husband and had come from US to France to SR to get help, and that SR, during a private audience, had tried to violently force her to have sex with him. Fortunately, she managed to escape being raped. She left the retreat in even greater despair and completely shocked. This was the worst incident which I heard at first hand.
SR did not respect any limits: he had sex with most of the wives of the leading students at Rigpa. I tried to keep myself and my private life out of his. I tried not to get mixed up with his affairs. Sogyal had a classical harem, and he knew all the tricks to make the obvious invisible, or if that did not work, to change the context of the students' values, giving the whole thing a spiritual excuse, and abuse fears and naivety, or the good belief of his students to get what he wanted. It's 12 years ago since I quit Rigpa, so I have no first-hand information of SR's activities now, but I must say I have little doubt that everything is the same today, because I consider him an addict. He is hooked on sex and power.
When I have more time I will write more professionally on the psychology of the guru-student relationship and of abuse. What interests me most is why people "allow themselves" to be abused and what hinders them to see the truth. And how to help others to discover their own truth, and how to stop people like SR from going on.

http://dialogueireland.wordpress.com/2010/02/03/briefing-document-on-sogyal-rinpoche-5th-symphony/
Schlagwörter: schwarzmagie im tibetischen buddhismus, tibetischer buddhismus und frauen, buddhismus gewalt, buddhismus praktik,buddhismus vergewaltigung, buddhistische ordensregeln, dalai lama,heinrich harrer, ole nydahl, shoko asahara, guru-heiler, rinpoche,ghose, karmapa, lamas, yogi, adi buddha, frauen erlösung wiedergeburt buddhismus, systematische vergewaltigungen von frauen, tantrismus in tibet, tibetischer buddhismus, erleuchtung, lamaismus, tantrismus, hinduismus, sexuelle Missbräuche, trimondi, colin goldner, reinkarnation, buddhismuskritik, yoga, frauenopfer, kalachakra-tantra, shambhala mit buddhokratie, shambhala-krieg, shambhala-mythos,buddhismus weltenherrscher, menschenrechtsverletzungen an Frauen,rituelle frauenopfer, trancetechniken im tantrischen buddhismus,magische praktiken, sexualmagie, beschwörung der geister, tibetisch-tantrischer buddhismus, energieübertragung durch menschenopfer, Schweigegelübde, gynergie, gesetz der umkehrung, einweihungen, ritualmörder, tibetische Schutzgötter, hollywood and tantrischer buddhismus, dalai lama adultery, dalai lama sex, cult leader, behind the facade of tibetan buddhism, sex, violence, abuse, enlightenment,
living Buddha,Hitler,Nazis,Jews,Juden,Israel,Tibetisch Lamaismus

首页